Celebrating the CERC babies!
Posted on 4 Dec 2018 by CERC
At CERC we're engaged in God's great mission to gather a people for Himself through Christ (Matthew 28:18-20).
In this article, you will find individuals from our congregation that by God's grace received the gospel through the preaching of His Word, and who are now living for this same mission as Christians serving Him. We hope you'd be encouraged by their stories!
---
Rachel Chong
I wanted to know what the 'secret recipe' was for Christian relationships because from my view, they seem to have it all together – being able to live in harmony with each other and not in constant arguments. My friend David Yong told me that I have to understand what Christianity is about first.
He shared the gospel with me – the depravity of man, how we were enemies with God and how we need Jesus as propitiation for sins to satisfy God's wrath. He also showed me the perfect relationship between God and Jesus. It was logical to me. I told David I want to repent and follow Jesus after our second bible reading session. From our subsequent bible reading sessions, I realised that the 'secret recipe' is to understand how broken our relationship with God is because of sin and how His love has been shown in Jesus' death and resurrection in order to reconcile us back to God.
---
Lo Nyuk Chu
Nyuk Chu with her university friends at a Gospel Growth Fellowship Conference
I can't really pinpoint the exact moment of my conversion. But it was during the Spirituality series in 2016 that I started spending lots of time studying the Word, listening to the teaching from the pulpit and being challenged by the real purpose of God in life – gathering of His people into His kingdom to glorify Him through Christ's redemptive work. I realised how silly I was to be pursuing earthly things so intensely that I was actually turning my back to the Creator that created these things. It was from that realisation where I found myself being changed into a person who hungered for the Word, who desired to grow in maturity and to live under His authority.
---
Siao Shuang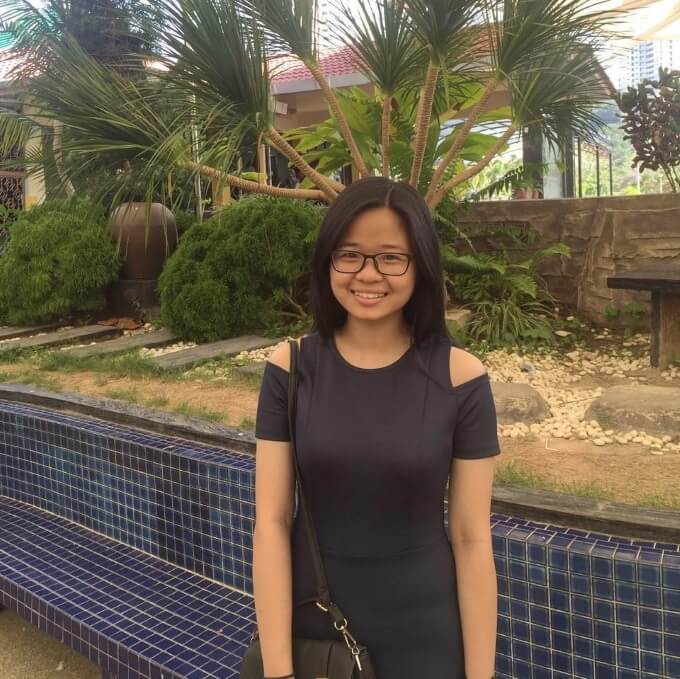 I attended Geddit in 2016 through a friend from my university who invited me. That event was life-changing, as it caused me to seriously think about my life in light of God's truth that was revealed to me through the talk and evangelism efforts by my friend.
'Thank You. You are worthy. How can I serve you?'
These were three short sentences during that Geddit talk which hit me- I could not find any excuse to escape from thinking about the Creator of this world I am living in after listening to those words. They made me realise who I am under God, one who bears His image and needs to give thanks to Him, serve Him and live in a manner that is worthy to Him. They also exposed my heart to the fact that I wasn't living in this way.
As I read more of the Bible, I learnt that only one human in history was fully obedient to God and served Him sinlessly, and who is now the Lord of my whole life. In Christ now, I am able to love and to serve God with His Spirit that is given to me through the cross.
---
Jovie Tan
Jovie (left) with her best friend and growth group member Aggie
God converted me by humbling me through the book of Ecclesiastes. While I was still idolising the world apart from Christ, a friend from CERC, Daniel Lu taught and preached the truth to me from the book of Ecclesiastes.
I thank God that He uses His people in CERC to keep reaching out to others from a non-Christian backgrounds, who have not heard the gospel. By God's grace, while I was still a rebel who suppressed His truth (Rom 1:17-18), He opened my eyes to see and understand who Jesus Christ really is through His Word.
Other books like Colossians and 1 Corinthians especially shaped my understanding of the gospel when I was a new Christian. The longer I live my life as a Christian, the deeper I appreciate God's love for me as a sinner. I am very grateful for God's saving grace. Soli Deo Gloria!
---
Cheryl Lim
My story started with a friend who brought me to a gathering in 2016. I wasn't a Christian when I first visited CERC- I didn't know anything about Christianity, I didn't understand the gospel, I didn't know who God is and I had no clue what life is really about. I struggled to understand the gospel that was being preached to me and I did not see it as something important for my life so I kept rejecting it. But one day, by God's sovereign grace I started to question, "What is the purpose of my life?" "What if Jesus really does exist?" I then started to seek for an answer and began paying attention to the sermon being preached.
Till today, I still remember the sermon that hit me hard, titled: "To love yourself is not the most important thing". It helped me realise how sinful I am- not because of my moral failures but because I rebelled against God our Creator, I disobeyed God's commandments and I fail to treat God as God. That was the point where my life changed!
As a Christian now, I'm really thankful for CERC for helping me understand God and His glorious gospel, His life-changing truth!